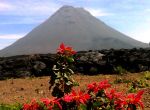 ☆ Home
☆ About Guides
☆ São Filipe
☆ Sightseeing
☆ some Islands highligts
☆ Pico do Fogo
☆ Caldeira
☆ Floreste
Sightseeing ...
☆ ... on other islands
☆ ... on Santiago
☆ ... on Brava
☆ Vacation packages
☆ Fogo Coffee
☆ Capoeira school
Last Eruption on Fogo
Impressum
Disclaimer
External links:
Infos about Fogo
Weather on Fogo


Trips to other islands
Ask for trips to other islands of Cape Verde Islands:
Brava

(External link opens in new window:) Wikipedia-Infos about Brava
See hiking island Brava - join me:
Brava is a nice hiking island.
Look to these beautiful views:
(BravaHiking01.jpg)
(BravaHiking02.jpg)
(BravaHiking03.jpg)
(BravaHiking04.jpg)
(BravaHiking05.jpg)
(BravaHiking06.jpg)
(BravaFishing.jpg)
Mostly you start from São Filipe on Fogo.
This will give you nice impressions of island Brava:
(SaoFilipe2Brava07.jpg)
(ToBrava.jpg)
Or Brava will send you back a "say good bye - see you once more" with his sunset:
(SunSetOverBrava03.jpg)
Join other trips - ask me.