Fogo Guide
I was born and raised on Fogo in Chã das Caldeira.
For a long time I lived in Caldeira, but now I spend in São Felipe, where you will find me easily.
I lived for years on Santiago and so I know the well known highlights as well as some secret places and have contact to resident people on Fogo and other islands.
Since 2005 I'm a certified guide for all Cape Verde Islands.
Therefore I have a lot of experience to guide you.
So my profession is to guide tourists like you.
For your pleasant trip, I offer you guided tours in different languages on all Cape Verde Islands:
English
Français
Español
Italiano
Deutsch (beginnend)
You like to see some references?
Look here (opens in a new window):

Alekistan.com (Deutsch/English)


Google-Maps Reviews/Bewertungen and

other reviews/Bewertungen (not yet mixed together due to technical issues).
Here you see me at my last stay with clients in Mindelo/Santo Antão:

Here you see me as guide on Santiago near Cidade Velha: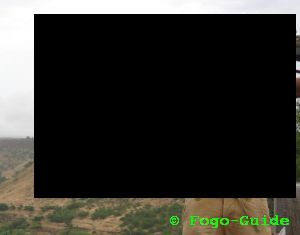 Travel infos
You can go to Fogo via National airline
TACV (see external link)
It is also possible to go to Fogo via
Fast Ferry Kriola (see external link),
or ask your travel agency.
Fast Ferry Kriola offers connections between Praia/Santiago and Sao Filipe/Fogo:
Look for time table Praia-Fogo here (external link),
Look for time table Fogo-Praia here (external link),
Some tourist told me they find medicine against motion sickness as sufficient if they are sensitive.