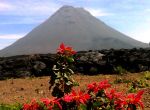 ☆ Home
☆ About Guides
☆ São Filipe
☆ Sightseeing
☆ some Islands highligts
☆ Pico do Fogo
☆ Caldeira
☆ Floreste
Sightseeing ...
☆ ... on other islands
☆ ... on Santiago
☆ ... on Brava
☆ Vacation packages
☆ Fogo Coffee
☆ Capoeira school
Last Eruption on Fogo
Impressum
Disclaimer
External links:
Infos about Fogo
Weather on Fogo


Fogo school of capoeira
here in São Filipe
Capoeira is a Brazilian martial art that combines elements of dance, acrobatics and music, and is sometimes referred to as a game. It was developed in Brazil mainly by African descendants with native Brazilian influences, probably beginning in the 16th century. It is known by quick and complex moves, using mainly power, speed, and leverage for leg sweeps. (from Wikipedia)
I teach you the upcoming hype!
phone me

Capoeirista artists as you will be soon:
Pictures will comming soon...

Some music to start:
Iúna (Ogg-Vorbis-Audiodatei, Länge: 2 min 28 s)

via Wikimedia Commons von Djino (Template:Mestre Tucano Preto) [Public domain]